ONC 2015 Edition HIT Certification - HISP & APIs
Our Interoperability Engine software has been certified as a 2015 Edition (h)(2) module for Direct Transport, so our HISP services can be used with any Health IT certified under the 2015 criteria for Transitions of Care. The product has also been certified as a 2015 Edition (g)(7-9) module for Application Access APIs.
Certification Details for Interoperability Engine:
This Health IT Module is 2015 Edition compliant and has been certified by an ONC-ACB in accordance with the applicable certification criteria adopted by the Secretary of the U.S. Department of Health and Human Services. This certification does not represent an endorsement by the U.S. Department of Health and Human Services.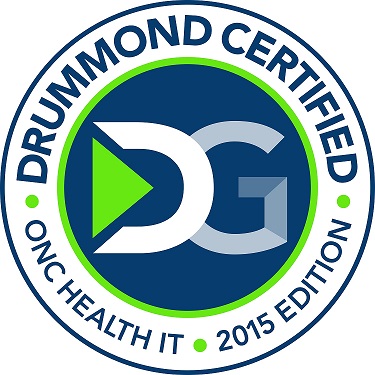 HIT Vendor: EMR Direct
Product and version: Interoperability Engine 2017
Certification: 2015 Edition
Date Certified: 11/17/2016
Drummond Certificate No.: 15.04.04.1397.Inte.17.0.0.161117
Modules: 170.315 (d)(1-3,9); (g)(4-9); (h)(2)
Clinical Quality Measures: None
Costs and Limitations: Use and support of this certified product version to send/receive Direct messages to/from other Direct enabled endpoints and/or to respond to Application Access API requests may require one-time setup costs, annual subscription fees based on number of providers, beds and/or number of Direct addresses and/or Application Access API endpoints, hourly technical support fees, and/or volume-based transaction or storage fees based on number and/or size of messages and/or API transactions, as determined by the service plan type purchased. Service plan types may include Direct Messaging functionality only, Application Access API functionality only, or both. When the service plan purchased includes Direct Messaging functionality, this certified product version includes bundled Health Information Service Provider (HISP), Certificate Authority (CA), and Registration Authority (RA) services. A license agreement is required to use this product. This product can be integrated with other ONC certified systems and the availability and implementation of specific product features will be at the discretion of the integrator. Support for integration with other systems may require additional one-time setup costs, hourly technical support fees, and/or ongoing maintenance fees. Maximum message, transaction and/or attachment size and/or volume is based on the service plan type purchased. Our customers select their own trust networks for sending and/or receiving Direct messages by submitting a signed request. As of 7/6/18, we have trust relationships in place with numerous third party HISPs, including all DirectTrust Accredited and Governmental Network participating HISPs, Microsoft HealthVault, and the Massachusetts Health Information HIway. Each trust network may impose its own restrictions and/or limitations upon participants, including eligibility requirements. To successfully send a Direct message to and/or receive a Direct message from a counter party endpoint, Direct exchange specifications may require the active cooperation of that counter party's HISP and/or Health IT vendor. Any limitations or restrictions imposed by the counter party and/or their vendor(s), such as implementation of trust policies that restrict inbound and/or outbound messages, non-conformance with relevant technical requirements, and/or payload constraints, may negatively impact the ability to successfully exchange Direct messages with that counter party. Establishing connectivity with a third party HISP with whom we do not have an existing trust relationship may require hourly technical support fees and/or other one time setup fees, and may not always be possible. Customers are responsible for any interconnection fees or other fees charged by third parties such as client application developers, HISPs and/or trust networks. Successful Application Access API connectivity and data access by third parties including patients requires conformance to our published documentation for third party application developers. Developers of other software products used to access data through this product's Application Access API may impose their own fees, restrictions and/or limitations, including limitations on available API functionality. Data provided through this product's Application Access API is supplied by other systems integrated with this product, and access to such data requires valid credentials accepted by those systems. These integrated systems and/or any healthcare organizations providing data through these integrated systems may impose their own fees, restrictions and/or limitations on data access, including which third party client applications and end user credentials are acceptable, how such credentials may be obtained, what data is included or excluded, and when and by whom such data may be accessed.