Interoperability Engine
With powerful integration tools, EMR developers can rapidly enable their products with Direct messaging and public Application Access APIs for ONC certification and the Promoting Interoperability and MACRA/MIPS programs.
phiMail® Direct Messaging is designed for the secure exchange of protected health information over the Internet. It conforms to the Direct Project protocol, and may be accessed via web browser, XDR, SMTP, or a custom interface.
The phiQuery™ component of Interoperability Engine enables HL7 FHIR and OAuth APIs. Options include an easy integration API, "CCDA-to-FHIR" translation services, or OAuth as a Service on its own. Works with SMART, UDAP, and the Argonaut Data Query Implementation Guide; both DSTU2 and STU3 are supported.
2015 Edition Certified.
HealthToGo
®

Services

The HealthToGo health care information service provides users with access to health care information. Health care information can also be accessed with third party applications using the HealthToGo API service. Users are able to access data from their health care providers or from other compatible data sources. HealthToGo services are also available for EMR Direct developers to use in demonstrating their phiQuery-enabled FHIR endpoints during certification.
phiMail Web
phiMail Web users experience secure, remote access to phiMail messaging from their PCs, smartphones, tablets, and other devices using a web browser. EHR integration not required. Get phiMail Web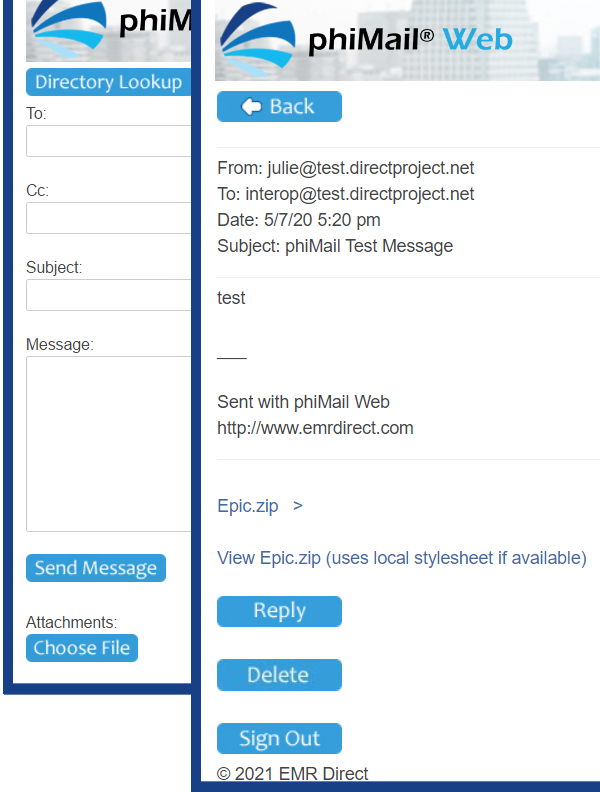 phiMail Directory
Direct address lookup is available for our HISP customers to find providers on our network of more than 1.8 million Direct addresses.