Event Notifications via Direct
ADTs and Direct Secure Messaging
Event Notifications alert care teams about important patient events. Information can be sent across departmental, organizational, or geographic boundaries, and includes details such as an admission, discharge, or transfer to/from a hospital, emergency department, or even Intensive Care Unit. When care teams have timely knowledge about events, they can act on that information to coordinate additional appropriate patient care.

The Event Notifications via the Direct Standard™ Implementation Guide was developed through an industry collaboration recognizing that more streamlined and better patient care can occur when there is a routine and understood way to alert care teams to these important events. EMR Direct is pleased to offer Event Notifications via the Direct Standard through phiMail™ Direct Messaging service.
How Does It Work?
EMR Direct's phiMail HISP service enables you to send or receive notifications much like regular email, without having to set up a custom interface between each sender and receiver, by using tech that's already in place including a nationwide directory, and with the other usual advantages of Direct Secure Messaging too.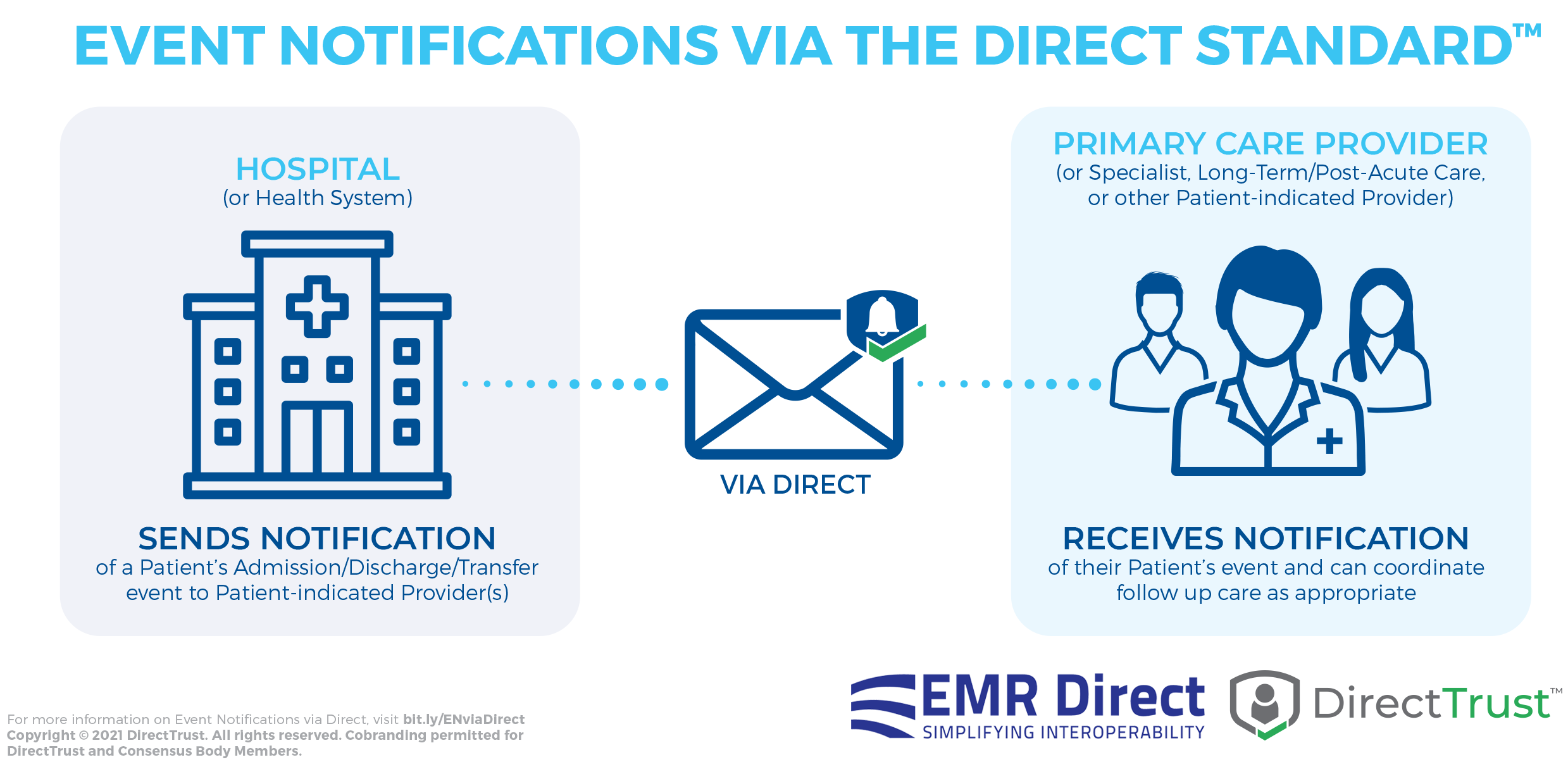 If you're a sender of Event Notifications, use EMR Direct's XDR HISP service or phiMail API with built-in Context capability to transmit a Notification out-of-the-box. Recipients similarly consume Notifications with Context included natively in the phiMail API or within an XDM Zip attachment. phiMail Web's 1-click XDM message viewer comes in particularly handy for recipients without certified health IT.
How to Participate?
Get a phiMail Direct address to experience the following benefits of Event Notifications via Direct:
-Efficient compliance with CMS ADT Conditions of Participation
-Visibility into status changes in patient care
-Context for patient matching & message routing helps better inform care decisions
Learn more about how EMR Direct partners are using Event Notifications via Direct in this case study.