ONC 2015 Edition HIT Certification - HISP & APIs
Our Interoperability Engine software has been certified as a 2015 Edition (h)(2) module for Direct Transport, so our HISP services can be used with any Health IT certified under the 2015 criteria for Transitions of Care. The product has also been certified as a 2015 Edition (g)(7-9) module for Application Access APIs.
Note: The certification for the 2017 version of this product displayed on this page is being retired as of 12/31/2022. Click here to view our current Cures Update certification details.
Certification Details for Interoperability Engine:
This Health IT Module is 2015 Edition compliant and has been certified by an ONC-ACB in accordance with the applicable certification criteria adopted by the Secretary of the U.S. Department of Health and Human Services. This certification does not represent an endorsement by the U.S. Department of Health and Human Services.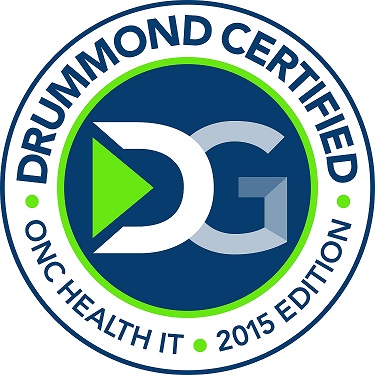 HIT Vendor: EMR Direct
Product and version: Interoperability Engine 2017
Certification: 2015 Edition
Date Certified: 11/17/2016
Drummond Certificate No.: 15.04.04.1397.Inte.17.0.0.161117
Modules: 170.315 (d)(1-3,9); (g)(4-9); (h)(2)
Clinical Quality Measures: None
Costs and Fees: Use and support of this certified product version to send/receive Direct messages to/from other Direct enabled endpoints and/or to respond to Application Access API requests may require one-time setup costs, annual subscription fees based on number of providers, beds and/or number of Direct addresses and/or Application Access API endpoints, hourly technical support fees, change fees, and/or volume-based transaction or storage fees based on number and/or size of messages and/or API transactions, as determined by the service plan type purchased. Service plans are available for Direct Messaging functionality only, Application Access API functionality only, or both. Support for integration with other products or services may require additional one-time setup costs, hourly technical support fees, and/or ongoing maintenance fees. Additional costs and fees may apply for the use and support of value added services or product functionality outside the scope of this certification.

Note: This software has been integrated with over 150 health IT products offered by other vendors. Many of those products have been separately certified using our product as relied upon software to provide specific functionality to their product. If you are using one of those products, please contact the developer of the other product directly regarding applicable costs and fees or for information regarding which product features are included within the scope of their certification.