Accreditation ensures compliance with DirectTrust Policy requirements and allows participation in the DirectTrust network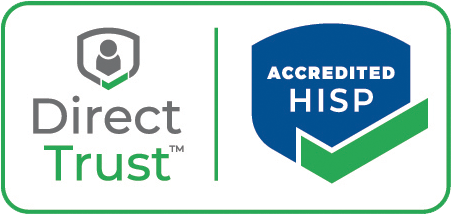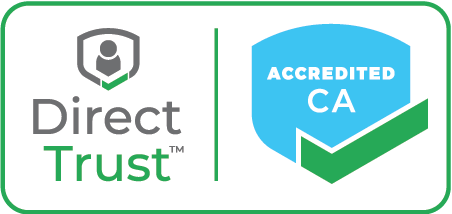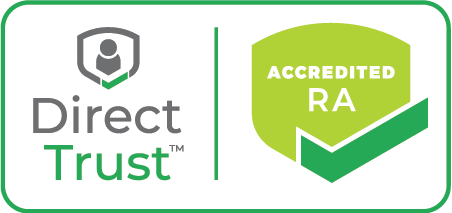 SAN DIEGO, Calif., February 11, 2022 -- EMR Direct, a leading developer of software for the secure exchange of health information over the Internet, today today announced it has achieved full accreditation through the DirectTrust™ Accreditation Program for Health Information Service Providers (HISPs), Certificate Authorities (CAs), and Registration Authorities (RAs). DirectTrust is a non-profit healthcare industry alliance created to support secure, identity-verified electronic exchanges of protected health information (PHI) between provider organizations, and between providers and patients, for the purpose of improved coordination of care.
EMR Direct's platform makes it easy for developers to add Direct Messaging, HL7 FHIR, or IHE query-based exchange services into their products, enabling more effective use of health information across the care continuum, while meeting industry requirements for privacy and security, and without special effort by customers or pairwise legal agreements. EMR Direct's HISP services can be connected to any Health IT using the phiMail® API, SMTP/POP or XDR, or can be accessed directly through a web browser. Directory services allow EMR Direct HISP customers to locate providers within a nationwide network of over 2.8 million providers. Native support for Direct Message Context through the phiMail API makes light work of sending or receiving Patient Event Notifications via Direct, as required by CMS. CMS also requires publication of Digital Contact information including Direct address, FHIR or other health information exchange endpoint.
EMR Direct's HISP, CA, and RA services software were audited against a series of technical, physical, and operational criteria and found to be fully in compliance with the Direct Standard™ and the requirements of the DirectTrust Security and Trust framework. "DirectTrust HISP, CA, and RA accreditation certifies that an organization has established and upheld a superior level of trust for its stakeholders, which is a significant distinction. Kudos to EMR Direct's commitment to maintaining the highest standards in privacy, security and confidentiality," said DirectTrust President and CEO Scott Stuewe.
"We have a longstanding history with DirectTrust," said Julie Maas, CEO of EMR Direct. "EMR Direct received its initial HISP accreditation and helped launch the DirectTrust network back in 2014 during the first year of the original program. We have since participated in many Direct connectathons, technical and policy workgroups and I also volunteer on the DirectTrust Board of Directors. Their mission to enable more digital, structured exchange definitely aligns with our own."
About EMR Direct

EMR Direct is headquartered in San Diego, California, and provides interoperability services, including HL7 FHIR, OAuth, Direct Messaging, IHE query, Identity Services, companion APIs for workflow integration and data accessibility, and, through its phiCert Certification Authority, the supporting public key infrastructure (PKI) required for secure health information exchange. With the goal of simplifying interoperability and enabling custom workflows, EMR Direct's software is easy to deploy and does not require expensive, one-off, peer-to-peer interfaces. EMR Direct sponsors work within UDAP.org, HL7 and IHE to improve the security and scalability of query-based information exchange nationwide, and our FHIR services include native support for UDAP. EMR Direct is committed to protecting patient privacy, improving the quality and coordination of care, increasing productivity, and reducing costs. The Interoperability Engine platform is ONC 2015 Edition Certified, ready to support partners in Cures Update certification, and integrates seamlessly into other applications. Hundreds of healthcare IT developers and thousands of healthcare organizations use EMR Direct services to power health information exchange services integrated into their products. Today, our network reaches over 2.8 million healthcare endpoints across the nation, and continues to grow.
About DirectTrust's Accreditation Programs

The DirectTrust Accreditation Program recognizes excellence in health data processing and transactions, and ensures compliance with industry-established standards, HIPAA regulations and the Direct Standard™. Launched in March 2010, the Direct Project was created to specify a simple, secure, scalable, standards-based way for participants to send authenticated, encrypted health information directly to known, trusted recipients over the internet. Today DirectTrust is an American National Standards Institute accredited Standards body and the custodian of the Direct Standard™.
DirectTrust accredited organizations are evaluated in the areas of privacy, security and confidentiality; technical performance; business practices and organizational resources as they relate to the DirectTrust network. Additionally, their process of managing and transferring protected health information must meet or exceed all DirectTrust criteria and industry standards. Successful completion of the DirectTrust Accreditation Program demonstrates organizations' adherence to strict standards and participation in the comprehensive, objective evaluation of their business.
About DirectTrust

DirectTrust is a non-profit, vendor-neutral alliance initially created by and for participants in the Direct community, including Health Information Service Providers (HISPs), Certificate Authorities (CAs), Registration Authorities (RAs), healthcare providers, consumers/patients, and Health IT vendors. DirectTrust serves as a forum for governance, trust community, standards organization, and accreditation body for persons and entities engaged in exchange utilizing the Direct Standard, supported by DirectTrust's robust security and trust framework. The goal of DirectTrust is to develop, promote, and, as necessary, help enforce the rules and best practices needed to maintain security and trust within the Direct Secure Messaging and broader Health IT communities. DirectTrust is committed to fostering widespread public confidence in the interoperable exchange of health information.
Trademark notice: phiMail is a registered trademark of EMR Direct. HL7 and FHIR are registered trademarks of Health Level Seven International. DirectTrust and Direct Standard are trademarks of DirectTrust.org, Inc. IHE is a trademark of the Healthcare Information Management Systems Society.